SAUER BIBUS blickt auf erfolgreiche Agritechnica zurück: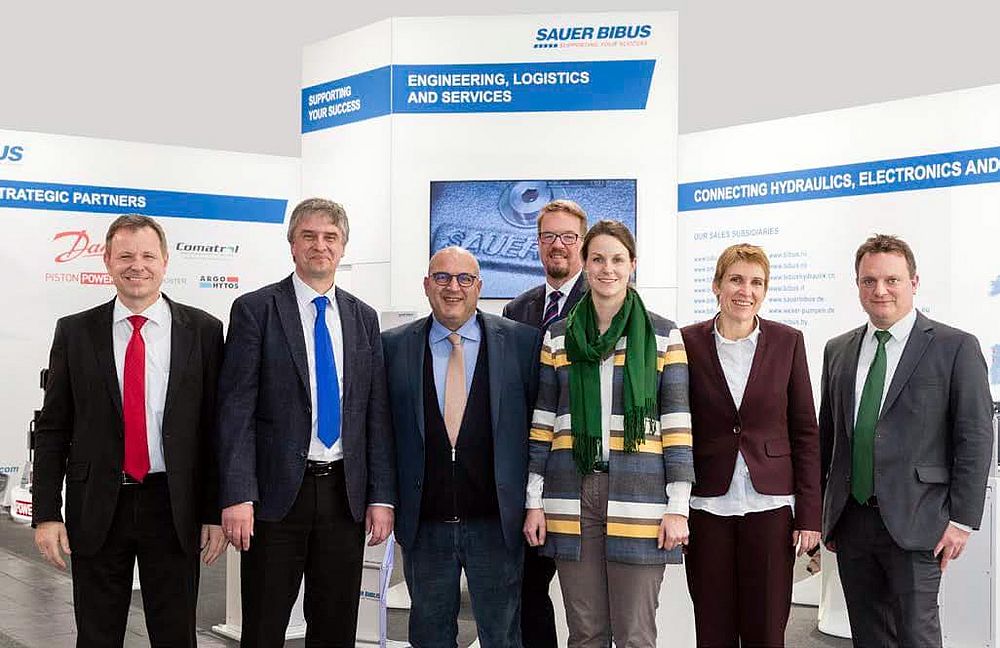 Von links nach rechts:
Burkhard Sauer (Danfoss A/S Power Solutions, OEM Sales Manager), Ralf Schrempp (SAUER BIBUS GmbH, Geschäftsführer), Raffaele Talarico (DLG Italia S.r.l., Fachprogramm Systems and Components), Wolfgang Rocca (ARGO-HYTOS GmbH, Head of Applications Engineering), Marie Servais (DLG e.V., Projektleitung Agritechnica), Ulrike Schmidt-Machinek (DLG e.V., Leiterin Internationaler Vertrieb), Achim Pferr (COMATROL Danfoss Power Solutions S.r.l., Regional Sales Manager)
"Connecting Hydraulics, Electronics und Telematic!"
Die diesjährige Fachmesse Systems & Components war als Spezialausstellung der Agritechnica für SAUER BIBUS mit einem rundum gelungenen Auftritt ein voller Erfolg!
Die Interaktion von Komponenten in mobilen Anwendungen bildete dabei den konsequenten thematischen Schwerpunkt. Denn in modernen, hoch komplexen Systemen gilt es, eine Vielzahl von mechanischen, hydraulischen, elektrischen und elektronischen Komponenten aufeinander abzustimmen.